Hosted by Havas People this was my second Talent Bites event (notes from first one here).
The format was a quick hour or so with a couple of introductory bits by Havas followed by three case studies.  It was a really good example of the kind of event where it is helpful to think about the messages after the event, reflect on what you think the key messages were, develop some personal take-aways, etc.
What is engagement anyway?
I'll start with a point from the Q&A:
"full-on/full-off"
This made me think how many of us can honestly say we are 100% "on" all the time at work and, when away from work, able to relax fully?  Indeed, what does "full-on" really mean with so many questions over UK productivity, people struggling with email overload and 'firefighting' taking people away from projects and other work that adds value?  Indeed whilst we can standardise work, to some extent to try and help, there is a risk of stress and a lack of treating people personally.
Discretionary effort
In the introduction engagement was deemed to be "about change, not surveys" and "discretionary effort" (DE).
This got me thinking about a couple of things, firstly that we've seen some very high-profile examples of DE in the UK in the last few weeks, not least #snowheroes battling the bad weather.  Secondly, that the idea of people hitting a lull a few years in to a job probably rings true with my own experience and the need to move beyond initial goals and targets.  Personally I've also struggled to imagine working for the same company for more than a few years and this chart hints at that idea of decreasing returns.  This, I would argue, is where learning and development very much kicks in as a value add – beyond initial onboarding and into keeping people engaged with career options and development.
Importance of a company narrative
The three case studies, on reflection, all had one thing in common: the companies wanted to grow but needed to baseline to bring people along.  Without that idea of (growth) direction it would be very easy to see how people would not be engaged
I used to run some basic business/consulting skills sessions and one aspect was the different levels of business planning (akin to below image – click for source):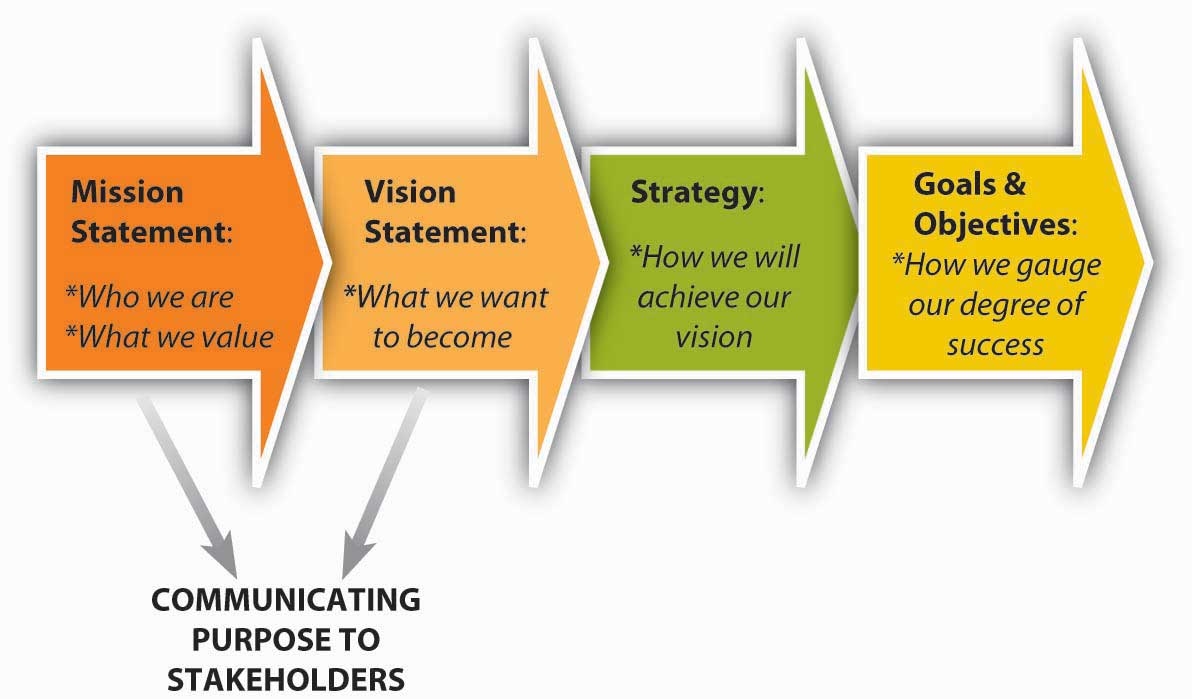 Much like a sports team – if the company's vision isn't one of growth and success then it is difficult to engage and gain peak performance.  Even being average is not likely to be much good if we continue the sports analogy, for example, "we're happy tracking along in mid-table" isn't going to gain much support from employees (players) or customers (fans).
Engagement as a part of wider system
The complex interactions of internal coms, internal/external branding, learning and other people elements were clearly only touched upon in the short talent bite sessions.  However, the sessions did make me think of HBR's Human Capital Drivers model and (as well as developing mission, vision and strategy) organisations need to cross link all of these against the below model:
I also found a useful blog post that does a nice job of pulling together some of these various components: and how they can impact on discretionary effort (that it is considering it from a school leadership perspective does not really matter).
Top-down vs Bottom-up; Local vs Global
All three presentations were by global companies and it was therefore interesting to hear how they balanced 'corporate' requirements versus local needs.
In the case of Umicore – there was a central effort to develop a new employer brand but with a lot of input from across the business.  This input (via research) was deemed key – the new brand was not based on HR and/or marketing's view of what brand should be.  There was then a "marketing for dummies" brand toolkit developed that could be used locally, with core elements to be customised for local usage.  As the company is a green one and can be seen, via recycling products, to be building a better world it is easy to have people aligned with the brand and be proud of the work by living the values.  They also back this up with "brand ambassadors" who are a network to share interesting marketing and internal coms activities across the group – this sounded like a community of practice and, presumably, shared content on internal social networks, etc.
Allergen – a story of considerable change (multiple takeovers either that happened, didn't happen or were muted) over the last four-ish years (following previous stability of three CEOs in sixty years).  This was an excellent and very personal talk, more open and honest than many you would see at such events.  Against the hostile takeovers there were examples of grassroot activism where people spontaneously acted 'in defence' of the brand.  In the end, four cultural aspects were launched to set what the company means for all employees (a 'BOLD' culture).  Through all the change, management managed to keep the business going via: authentic conversations, bringing their customers with them and developing the BOLD new company culture.  Overall, I'm sure Allergen would make a great business studies case study for how much change can happen in just a few years!
Nomad – A story of turning around multiple brands within a newly created parent company.  They have had turnover of staff, realising you will lose some people, but tried to make people aware if they were being cynical – can't change everyone but create conditions that can inspire.  Some of this nicely tied in with Strengthscope and the idea of positive psychology.  Some of those more positive aspects articulated in their "Our Way".  The CEO worked with HR on this to create a turnaround and growth narrative and what people needed to do and how they needed to act to deliver this.  Our Way tapped into basic emotional needs of needing growth and community via combined vision, mission, growth strategy and eight values.  This was not just about posters on a wall, worked with an external partner to run a number of large face-to-face events for what it meant for different levels of management (8×1 day programmes : 800 people from 13 countries) – some snippets from these being shown via video.  The external partner (Breakthrough Global) providing a number of simple tools and activities that aligned to the values for use in these and other sessions.  The presenter and company acknowledged strategy is one thing but need the culture with it and reinforcements were all relaunched: appraisal, culture survey, performance and reward to all align.  Now back in acquisition mode thanks to change, organic revenue growth and company turnaround around, inc. share price value.
Summary of some of the techniques and approaches
So, to summarise the above, here are some of the things that seemed to have worked for the presenters:
Ensure enough focus on people managers: they will win/keep hearts and minds, do not just rely on senior managers.
Keep things simple: from Allergen focusing on four key statements to Nomad's wider, but nicely integrated, "Our Way".
Be authentic: personally I'd add transparent to this – both with employees and customers to ensure there is confidence.
Simple tools: give people simple tools to transfer big picture and 'corporate' ideas to what it means for individuals in different roles and roll back up from community/grassroot advocates to bigger picture.
I don't think any of these are revolutionary but it is always good to hear some case studies where things do work and can influence performance.