Not working directly in a workplace L&D team for a little while has been nice in some ways.
It has allowed me to reflect once more on the nature of learning and what we are trying to achieve via investments in 'workplace learning' teams and initiatives.
This time has only reinforced in mind the reality that everyone at work is learning, all the time.  Those of us who might consider ourselves as 'learning pros' are really only able to support this through appropriate infrastructures/scaffolds, interventions, etc.  At the same time trying to ensure, from an employee engagement perspective, that people feel valued and supported.
As I am working in formal education again (albeit now in the 2-18 age range which is mostly new to me) I've also gained new insights into what we really mean by 'learning', 'performance improvement', etc.  It is also clearer to me than ever that the idea school teachers are educators stuck in didactic formal learning (sage on stage/chalk n talk type stuff stymied from change) couldn't be further from the truth.  This, in part, reinforces my old view about how stuck-up/presumptive a lot of the L&D industry's focus is.  It also makes the case for more interaction between schools, colleges/universities and workplaces to better leverage technology and better understand what we are all trying to achieve (or "business needs to stop complaining about talent and do more with schools and apprenticeships" as I've put it in the past).
More thoughts will no doubt come out of these experiences in coming weeks – first up is a feeling…
Corporate change and the hamster wheel
…A feeling that workplace learning conversations, continue to be stuck like a hamster on a wheel.  This has been triggered by seeing some of the old workplace learning arguments coming up once again on social media in recent weeks and also from a quick flick through of "Beyond Knowledge Management: Dialogue, creativity and the corporate curriculum" which I've recently picked up (Bob Garvey and Bill Williamson, 2002 – BKM from here on).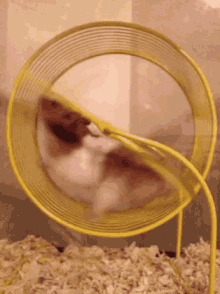 BKM's forward (by Rosemary Harrison) suggests the book is a "response to…turbulent competitive conditions" and considers/suggests how to tackle this via "the competencies and ethical issues involved in working in a continuous learning environment".  Here we effectively see the L&D staple of VUCA vs the need for learning organisations to tackle such uncertainty and continuous change.  The point though is that this is from 2002, before VUCA became the standard descriptor.  Consider that with another recent excerpt I got from a book:
href="
https://twitter.com/iangardnergb/status/1092430958437883904&#8243
;
The answer to the question in the tweet is 1975.
The Hawleys were talking about the growing volume of media in the '70s (TV, magazines, newspapers, etc.) but I thought the quote clearly felt contemporary in the 'information overload due to the Internet' era.
Overall these examples show that, for decades, we've been talking about the same issues and really wasting effort in tackling them.  Another recent-ish tweet of mine considered how Mad Men picked up on this in showing that whilst some things have clearly changed, although in areas like racism perhaps not as much as we'd like to think, there are other aspects where the same conversations are happening ad nauseam.  The specific example in my tweet being the rise of the machines:
https://twitter.com/iangardnergb/status/1089955996607434752
That issue being particularly appropriate given that AI, automation and associated technologies are very much the vogue topics in 2019.
The difference in BKM's title to the more modern conversations would perhaps be that the "corporate curriculum" has come and gone in preference to learning 'in the workflow' via increasingly bitesize and flexible provision.  That said, I can consider my own personal experiences in the interim years with global curriculum management (2012-2015) and redefining a UK learning curriculum from local practice to national and accredited (2016-2018).  Compare those six years to someone delivering a traditional curriculum, for example, a traditional 'trainer' doing the rounds and you hit the classic of "doing the same thing for six years is one year's experience versus doing different things for six years is six years' experience".  Thus, we hit another L&D trap – an assumption that 'in workflow' is the way to go rather than more formalized approaches.  This is in part the snobbery I mentioned previously where white-collar knowledge work is all anyone does (to be fair, BKM is specifically considering issues stemming from the rise of knowledge workers).
Working in a school I've already made the point multiple times to pupils that time is the commodity they do not realize is most important. They will come to realise this in the workplace, of course, but supporting the international baccalaureate is an eyeopener in the specific focus on what we mean by knowledge/learning and what the profile of a learner looks like. I'd be tempted to say every L&D professional should familiarize themselves with this as, if you are hiring IB graduates, you should have a very different breed of new-hire than if not. Certainly different than I was at 18 and probably still so after the extra academic skills and instruction of university to 21 and travel/reflection to 22.
So what about dealing with that VUCA world?  Well it was interesting to see the 20th anniversary comments on Office Space (http://www.bbc.com/capital/story/20190205-office-space-turns-20-how-the-film-changed-work) and the "Is this good for the company?" culture of the 90s versus the employee wellbeing and engagement culture that is increasing the case today.
One thing where we can be happy to stay on the wheel is in agreeing that learning is continuous, good for the organisation and good for the organisation's people.